English tuition from a native English speaker
I am a native British English language teacher situated in the Beroun area offering lessons to individuals and groups. Along with individual lessons I also work with schools to deliver lessons to pupils aged between 10-16. Lessons may be delivered in your home or other arranged meeting place. I also have a positive experience of distance learning and teaching via the internet. This year we are adding translation services.
Find out more About me
Find out more about Corporate English Tuition
Find out more about Translation
Translation services
We offer translations from Czech into English and from English into Czech by native speakers. We translate articles, subtitles, websites, books. It doesn't matter the scope or topic.
Adult learners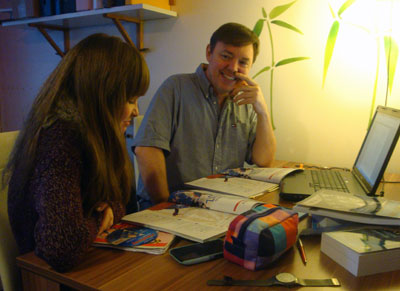 Adult learners coming to me can expect a learning experience concentrating on the four basic skills – reading, writing, speaking and listening. The standard package consists of course texts from Oxford or Cambridge while custom packages can be devised which offer focused learning in specific areas chosen by the student.
The OUP and CUP course materials cover:
Tourist English
Everyday English
Business English
Academic English
Find out more about Adult learners
Young learners
Young learners can also benefit from a custom study package but I also provide extra-curricular support for students preparing for the Maturita exam using materials drawn from a wider variety of complementary sources. Individual lessons can provide a more dedicated learning experience for the young mind while group lessons involve a broader approach allowing for a wider range of language abilities in the students.
Find out more about Young learners
Accurate placement
The majority of new adult students are asked to take the Oxford Online Placement Test as a precursor to starting their course. The test is a highly effective adaptive test taken online and designed to establish the student's current level of ability in the most efficient manner possible.
Find out more about the Oxford Online Placement Test
Proof-reading and copy editing
I am also an experienced proof-reader and copy editor with past commissions that include websites, marketing copy and academic publications. To find out more and to discuss your project in more detail, please contact me.